Need Inspiration? Read These Blog Posts by Indie Authors
Sigh. Sometimes, in the middle of  forcing ourselves to write a set of words a day, we ask ourselves:
Why am I doing this? Will I actually be successful? Who has even earned from this thing? Am I just fooling myself?
We can be pretty harsh. We're probably our own harshest critics. We expect a lot from ourselves, which is why our own thoughts can get us down. And sometimes we just need some inspiration to remind us why we do what we do.
I'm a Best-Selling Kindle Author and I Crush Some Huge Checks
Author A is a former drunk punk turned early Amazon Kindle Singles partner. Author B leverages Amazon as her primary distribution platform for post-erotica musings. Author C is a Los Angeles-based creative. Author D is a New York-based writer with a refreshingly reasonable perspective on online publishing.
This article on Hopes and Fears is an interview of three authors who found greater joy and satisfaction (and money) publishing stories on Amazon.
From Rags to Riches: An Indie Success Story
Over at KarpovKindrade, Kimberly Kinrade (one of the authors of the Seduced Saga), tells readers what it was like to hold on to your dreams despite the struggles of looking after her three daughters after ending an abusive marriage, and living on welfare and food stamps.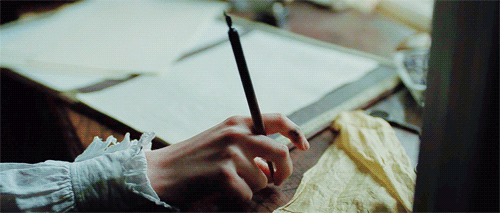 How Much Can Indie Authors Realistically Make? With Guest @LizSchulte
Liz Schulte writes full-time, and in this article, she fearlessly tells us how much you can expect from indie publishing your work. It can be disheartening to think that you're hard work won't amount to anything, but Liz shows us some figures to give us inspiration.
Celebrating Five Years as an Indie Author
Sarra Cannon gives us the numbers on her earnings, while at the same time reminding us to keep at it, to get better, and to just try. Because you'll never know if you don't, you know?
Why You Should Never Give Up
This beautiful post by PJ Parrish shares his lowest and highest days of being an author, and inspiration from other writers who never gave up. And this poem by Parrish might just be the push you need:
I'd rather be a could be

If I couldn't be an are

for a could be is a maybe

with a change of reaching par.

I'd rather be a has been

than a might of been, by far

for a might have been has never been

but a has was once an are.
How Leeland Artra Is Rocking the Amazon Sales Charts with His First Book
Lindsay Buroker, a long-time indie author, has lots of great articles on her site. One is this post on Leeland Artra, a fantasy fiction author. Although not everyone will top the charts on the first book, we can get some encouragement from this article that it can happen.
Goin' Indie: My Sales During Year One of Self-Publishing
Although pretty old, in this post, Cate Rowan gives the lowdown on indie publishing, what she did, and what she got in return.
The Last Taboo: What One Writer Earns
Cara McKenna gives the details on writing full-time, when she lost her design job. Her goal had been to replace her annual salary with her earnings from her fiction. And boy did she achieve just that.
How Rachel Higginson Overcame Rejection From Traditional Publishing to Achieve Indie Ebook Success
Rachel Higginson, author of the popular Star-Crossed series, writes about dealing with a death in the family, taking care of her kids, and finally starting her publishing journey with the help of her husband.
30 Books and Counting: Lindsay Buroker on Being a Full-Time Author
I love this article because it's Lindsay Buroker on The Creative Penn, a blog run by another successful indie author, Joanna Penn. Lindsay Buroker talks about her marketing strategies, earnings, and lessons along the way.
The Martian and Six More Movies That Began as Self-Published Books
Yes. Indie books have the potential to reach the silver screen. Let this article inspire you.
Other Websites to Check Out
There are lots of authors out there you can follow to give yourself some motivation. Their success, your inspiration. Here are some websites that blog about marketing strategies, earning reports, writing techniques, and more.
Helping Writers Become Authors
Be inspired. And have fun!